I made a bet with my boyfriend in regards to reading this year. Last year my goal was to read 50 books. I made it to 57. This year I decided not only to double my original goal, but go a little bit further. My goal is 104 books this year. Don't ask where the 104 came from...I have no idea! I thought to make my challenge a bit easier I would check out some of the book challenges floating around cyberspace.
The 2012 Witches and Witchcraft Reading Challenge hosted by Melissa's Eclectic Bookshelf is the first challenged I have signed up for.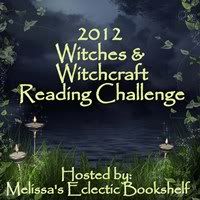 I am going for Crone level and am going to read 16 - 20 Witchy Books.